Today's book of poetry:
Waiting at the Dead End Diner.
Rebecca Schumejda. Working Lives Series. Bottom Dog Press. Huron, Ohio. 2014.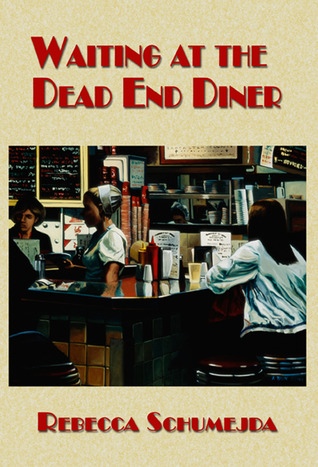 I really don't know how to break this to Rebecca Schumejda, someone I do not know, but I am about to put the kiss of death on this book. I like these poems more than oxygen.
These poems hit my heart and head at the same time, with a sledgehammer.
Rebecca Schumejda's
Waiting at the Dead End Diner
works for me as though John Steinbeck had set
Grapes of Wrath
in a diner and had Charles Bukowski help him write it. Of course, for this scenario, they'd both have to be women.
No One Cares
No one cares what you think,
Rick screams
after I tell him that the coleslaw is spoiled.
He doesn't care it is tinted yellow and stinks;
he still scoops heaping piles onto plates.
Rick's been a fixture here for over a decade,
as permanent as grease accumulating
on kitchen walls. Finally after two years,
he calls me by my real name instead of
Hey legs
or
Yo, college girl.
When I refuse to take
out the plate, he calls to Jolene, who he says
is
Used to serving rotten merchandise,
but
even she refuses--
No way, Rick, you're gonna
kill someone.
Rick shrugs and says something
about population control before screaming
86 the coleslaw, thanks to these two twats
from the health department,
and even though
he yells this, no one seems to have heard.
...
Every single one of you has been to a diner, some of us more than once. My mother worked in places like this when I was a young boy. I did dishes in a similar kitchen. This all rings so true it could be a series on HBO - and I'd watch it.
Schumejda is not someone who pulls any punches and as a result
Waiting at the Dead End Diner
rollicks over the pages. These poems sing and you can hear the grill sizzling and the grease popping, but more importantly you see that this canvas is the world writ large, reduced to human scale. An opera with cooks, waitresses, customers and the ching of the cash register keeping time.
Degrees of Intelligence
Rochelle's Master's degree
in Art History landed her a
part-time job as a tour guide
at the state museum over
an hour and a half from
her house, $50,000 in debt,
and here at our counter
where she is trying to
figure out why the coffeemaker
won't stop even though
the pot underneath is full.
She panics, tries to
turn if off, looks around
for help. Maggie swoops
in, pushes Rochelle aside,
grabs the half-empty pot
on the top burner,
pulls the full one out
and switches them.
Rochelle lets out a long
sight of relief, leans back
against the counter,
knocking over Eddie's
glass of water.
...
So the setting is a diner but of course it is a microcosm to illuminate the macrocosm, and can I get fries with that.
These poems are honest, pared down, clean.
Rebecca Schumejda sings a tune we will all recognize, these poems touch a familiar.
All in the Same Day
The day I can finally afford
a one-way plane ticket to Alaska,
Jolene tells me how she had
a threesome with her boyfriend Charlie
and the only waitress George
ever threatened to fire.
You know you can always join us,
she offers with a wink.
The same day, when a young boy
with Down's Syndrome comes in,
Maggie goes to the back and starts
crying. She begs me to take
her tables. She needs to leave
right now, but she'll be back.
After seeing Maggie break down,
Tommy tells me that he will
pay the bill for the boy's table.
Just tell them it's on the house,
he says. When the little boy
orders pancakes, Sammy makes
a happy face with chocolate chips,
gives it a cherry nose,
and whip cream hair.
The same day, George's wife
wins fifty dollars on a scratch-off
lottery ticket; Kitty orders
the meatloaf special instead of
her usual, and Asif stops in to
tell me he just had to see me.
Toward the end of
her shift, Jolene passes
by me and says,
I spilled
hot chocolate on my shoulder,
and tomato soup on my boob.
I can't wait to see what
gets splattered on my cooter.
...
Boy, I just flat out enjoyed these poems. I loved the clarity and humour that seem to be Schumejda's natural fit. These poems were touching and energetic, there aren't any forced moments but there is certainly tension. Within the walls of this diner there are morality tales being played out on the small stage that speak to the humanity within us all.
Leave a big tip.
Rebecca Schumejda
ABOUT THE AUTHOR
"When I was in seventh grade, my English teacher asked the class to write poems and I eagerly complied. A few days later, my parents were called into a meeting at the school where my teacher, the principal, the vice-principal, and the social worker discussed how my assignment was unacceptable and how they were worried about my mental state. After reading the poem, my father sat there for what seemed like forever before he looked right at me and said, 'This is a great poem, Rebecca!' Then he looked at the teacher and said, 'Don't ask your students to write poetry if you don't want to hear their truths.' My father, a hard working roofer, has always been my inspiration."-Rebecca Schumejda
Rebecca Schumejda is the author of Cadillac Men (NYQ Books, 2012), Falling Forward, a full-length collections of poems (sunnyoutside, 2009); The Map of Our Garden (verve bath, 2009); Dream Big Work Harder (sunnyoutside press 2006); The Tear Duct of the Storm (Green Bean Press, 2001); and the poem "Logic" on a postcard (sunnyoutside). She received her MA in Poetics and Creative Writing from San Francisco State University and her BA in English and Creative Writing from SUNY New Paltz.
BLURB
"With a spot-on ear for dialogue and a solid feel for gestural nuance, Rebecca Schumejda sweeps us swiftly into the late-night chatter and dish clanking of the Dead End Diner. In this collection, we meet a memorable cast of prickly though resilient characters who simultaneously shrink and expand under the high-pressure cooker of life. Cinematic in its conception, I can't help but think of Robert Altman's Short Cuts, or some of Raymond Carver's best for that matter. Waiting at the Dead End Diner is a deft exploration of the complicated forces embodied in gender, unreciprocated love, ethnic and religious stereotype and economic class, where participants dream big and live hard in the face of unflinching obstacles. If I could purchase one meal at any hour, it would undoubtedly be Rebecca Schumejda's latest."
Manuel Paul Lopez, author of The Yearning Feed
Rebecca Schumejda reads at the Howland Centre, N.Y.
Calling All Poets (CAP)
4.4.14
264