For the month of April this blog will be looking at the nominees for the 2014 Pat Lowther Memorial Award, Raymond Souster Award and the Gerald Lampert Memorial Award as recognized by the the League of Canadian Poets.
The Pat Lowther Memorial Award is given for a book of poetry by a Canadian woman published in the preceding year, and is in memory of the late Pat Lowther, whose career was cut short by her untimely death in 1975. The award carries a $1,000 prize. It is presented each year at the League's Annual General Meeting in May or June, with the shortlist announced in April.
http://poets.ca/contests-awards/pat-lowther/
The Raymond Souster Award is given for a book of poetry by a League of Canadian Poets member (all levels, dues paid) published in the preceding year. The award honours Raymond Souster, an early founder of the League of Canadian Poets. The award carries a $1,000 prize. It is presented each year at the LCP Annual Poetry Festival and Conference in June, with the shortlist announced in April.
http://poets.ca/contests-awards/raymond-souster/
The Gerald Lampert Memorial Award is given in the memory of Gerald Lampert, an arts administrator who organized authors' tours and took a particular interest in the work of new writers. The award recognizes the best first book of poetry published by a Canadian in the preceding year. The Award carries a prize of $1,000 and is sponsored by the League of Canadian Poets. It is presented each year at the League's Annual General Meeting in May or June, with the shortlist announced in April.
http://poets.ca/contests-awards/gerald-lampert/
...
Today's book of poetry:
Surge Narrows. Emilia Nielsen. Leaf Press. Lantzville, B.C., 2013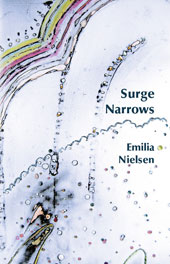 "
Surge Narrows
is gorgeously sensual and sharply precise — if we could taste it, this book would be salmonberry. It would be salt. To read these poems is to stand under a waterfall, letting the words rush like cold, clean water over the skin. A powerful debut."
Anne Simpson
Vernacular Hearts
1
The heart is getting shit-faced. Can't hold the gaze
of tetchy waitresses, bartenders. Cleans its pocket knife.
Sharpens fork tines. Just because. Tests irony. Stiff upper
lip and downing another round. The heart is doing a bit
of pickling, a bit of self-preservation. Has never been so
wrought. Likes it straight up, no chaser.
...
"
I would highly recommend this book for those who love or are native to the west coast. It's so lovely to read a poem that compares "unruly hair" to old man's beard (it's a kind of moss that's especially useful as nature's toilet paper—you're welcome). To me, reading these poems is like a trip home, to the woods behind the house where I grew up, to the landscapes I drove through on road trips, to the secluded beaches and forests I miss when I'm living in the big city. If you need another reason to pick up this book, let me tell you Emilia Nielsen has top-rate taste in fellow Canadian women poets; she quotes Roo Borson ("I think my heart is a sad device") and Phyllis Webb ("My universe opens. I close. / And open, just to surprise you.") Are not you convinced?
Casey - The Canadian Lesbrarian
(
http://caseythecanadianlesbrarian.wordpress.com/2013/08/14/the-heart-has-never- surfaced-more-queer-a-review-of-emilia-nielsens-poetry-collection-surge-narrows/)
Surge
Drawn to smaller islands,
forts surrounded by ocean,
we begged the skipper to beach
the homeward bound school skiff,
forget rising bread dough. Wait,
we wanted to roam moss bluff and tideline
scoping good trees for hammocks, berries, warm tide pools,
sites for our future cabins.
We'd do high school by correspondence
instead to moving to town, get dogs and speedboats,
learn to make root beer, become hermits together.
Said we wouldn't leave.
...

The selections I've included are but fragments of the finished works - and have a strength of their own, but naturally these fragments don't carry the weight of the completed poems.

Here is Nielsen's poem "Indifferent Season" in its entirety.

Indifferent Season

i

Down-at-the heel, undone:
the weather, galvanized.

There ain't no cure for
the summertime blues.

Yellowjackets held with-
in their skin's slim bars.

Migraine's fluorescent hum;
a cloudburst, a flash flood


ii

Fire, water, a stainless kettle. Pungent tea:
blessed thistle, passionflower, angelica.

Give me a moment to Ophelia, to float-
summer's too much in love with its own heat.

Artemisia Gentileschi's Judith. Artemisia
absinthium: aphrodisiac, bitter stimulant?

Kiss my collarbone, my someday tattoo:
blue water lily. Offer me one breast.


iii

Pray for a life without plot,
a day without narrative.

This kick of gas flame, weeping
willow, for taprooted melancholia.

Monotony, straight country gravel,
traffic jeering past fallow fields.

A millstone, a horse on the road:
Slow Down and Circle Wide.


iv

Cherries, black plum, blood orange:
my breakfast vividly carnivorous.

The turkey vulture's wings a scythe,
dihedral; its aerial circumambulation.

Wild carrot: umbel of white needlepoint
lace, tiny central flower a red pinprick.

A mouthful of mad chickenpox berries,
tongue an itching curse - calamine, ice!


v

Rain-barrel drinking water
heady with yellow pollen.

The body's brash reflex:
antler flush; summer's rut.

Neither for me honey
nor the honey bee.

My mouth, obtuse:
no spark of new love.


vi

Full moon's zenith;
an aster gone to seed.

Spent the hot morning
reinventing the wheel.

Curios: moondog, halo,
opal, howl, dog star...

Garden plot chock-a-
block with dandelions.

...



ABOUT THE AUTHOR
Emilia Nielsen was born on Vancouver Island and now lives in Vancouver, BC. Her poetry has appeared in literary journals across Canada including: The Antigonish Review, Descant, Event, Contemporary Verse 2, The Fiddlehead, Grain, Prarie Fire, Room Magazine, and was nominated for a Pushcart Prize in Poetry by PRISM international. Currently, she teaches in the Institute for Gender, Race, Sexuality and Social Justice in the Faculty of Arts at the University of British Columbia.