Today's book of poetry: Handfuls of Bone. Monica Kidd. Gaspereau Press. Kentville, Nova Scotia. 2012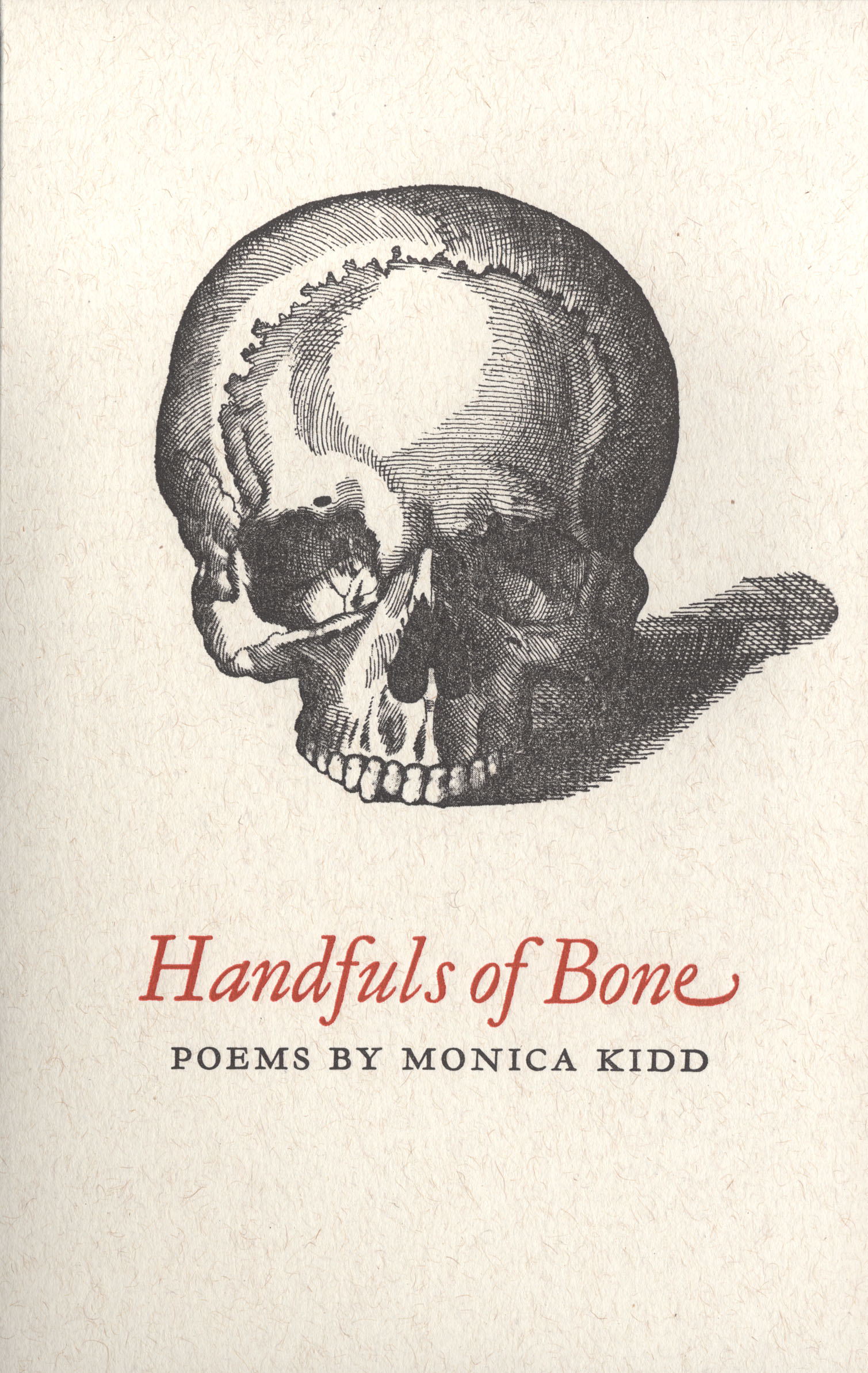 Applying the trade
The flight attendant is magnificent.
An insouciant scarf and a knot of blonde,
a cockeyed pillbox. The rapture in it.
She deploys an atomizer, moves two fingers
to the brows, the hatpin —
the hatpin
—
then a wand of lip gloss, battening down.
She is Jell-O and Bonnie & Clyde.
She is pink martinis. She is Frigidaire.
We are small and silent daughters
zipped at nightfall into footed pajamas,
sheltering in her beauty.
Face securely fastened, she buckles
into a four-point and tugs her skirt.
Fixes her gaze somewhere
well beyond us.
...
Monica Kidd is all eyes-wide-open observational. These snare drum tight poems are as crisp as winter weather.
It's almost too easy to say, seeing that Kidd sidelines as a doctor, but these poems read prescription clear, only what is necessary.
And then, just when you think that is true — it isn't. The journalist/reporter/researcher head of the multi-faceted Hydra that must rest where most of us have a noggin' rears into its' voice with a depth of compassion and moral certainty rarely squeezed out of poems.
March thunder
A line of boots thumping
a set of reels. Bodies
line the Legion Hall,
buttressing the walls,
the night outside bitter,
the yellow moon limping
toward the horizon.
Anita's contralto sorrow:
another sailor lost
and now more again,
Swallowed by industry,
their woman at lunch
counters, keening. Oil-
patch pickups idling,
waiting for news. The
chomping certainty of
rescue turned recovery.
August gale or chopper
turned Icarus in the
traitor sky: it's all the
same. Our misery,
wandering. Her voice
the way home.
March 12, 2009
...
This is a very fine set of parlour tricks that Monica Kidd has at her disposal but she never wastes them, or lets the reader down. Poem after poem her sure-footed voice strikes the right note and the result is flat-out hard-nosed excellent poetry.
Risk factors for hemorrhagic pancreatitis
The bleeding wouldn't stop was the problem. The big
bulk of the man on the gurney rushing from ICU oozing
blood in places it shouldn't. Surgeons hoping to tie
whatever needed tying.
Like trying to stop gravity.
He kept bleeding. They stopped counting at twenty
towels. Packed him full and taped him down, hard.
What I remember is the tips of his fingers calloused
from too many job sites, too many winters. His blood
spreading over a sheet. Someone whispering.
Couldn't afford the time off work to get the surgery.
A sick wife and a kid at home.
The way he died because he was poor.
...
Monica Kidd is not shy but she sure can dig into those difficult places people don't want to discuss. "Instructions for disposal" is but one of a dozen jaw-dropping slaps to the senses.
2070 miles
2070 miles on a scooter
to place my hand
on this stone and that.
To feel for a pulse
and find one answering
faintly to my fingers.
History is whispered here.
2070 miles: a long white flag
surrendering to the wind.
...
There are love poems in here as well, in fact it might be all love poems.
I copied this from the back cover:
Monica Kidd grew up on the rural Alberta prairies. She completed a B.Sc. at the
University of Calgary, an M.Sc. at Queen's University, attended medical school at
Memorial University and is now a practising physician and writer. She is the
author of two novels (
Beatrice
and
The Momentum of Red
), a book of non-fiction
(
Any Other Woman: An Uncommon Biography
) and a collection of poetry (
Actualities
).
Her short experimental films have shown in Atlantic Canada and in Amsterdam. She
has worked as a seabird biologist and as a reporter for CBC Radio, where her news
items and documentaries have won numerous awards. She lives in St. John's, Newfoundland,
with her husband and children.
Handfuls of Bone
is a book you WILL enjoy. This particular book another example of why Gary Dunfield and Andrew Steeves are known for the most attractive books in the country.
You can hear Monica read from her first book,
Actualities
, here: http://www.authorsaloud.com/poetry/kidd.html
www.gaspereau.com