Today's book of poetry:
4 Rms w Vu.
Susana H. Case. Mayapple Press. Woodstock, New York. 2014.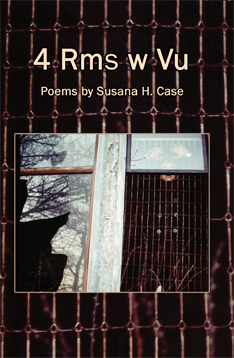 There is nothing better than the powerful whisper-blow of Ben Webster's tenor and that is what we are listening to this morning in the Today's book of poetry office. It's -19 C or some other ungodly temperature outside. Every time Milo and I want to have a smoke we have to bundle up like explorers. We both end up looking like kids going off to kindergarten, everything but mittens on a string.
But now that we are back here in our warm office and listening to Ben we can tell you why we are excited by Susana H. Case and her utterly vibrant 4 Rms w Vu, although given any sort of chance Case would handle that with aplomb. Case writes our kind of poetry. Her poetry is down to earth, wildly emotional but almost controlled, anarchy of the best kind.
And Now Let's Revisit Sex and Death
Getting into bed with you,
it's afternoon, my mind on play,
I'm wearing chiffon, I'm grinning
like the cows have already come home
for me when you say,
could you take a look at my lip -- I'm thinking cancer,
which of course stops the whole thing dead
while we go to the lamp
get you angled right and yes,
there's something there, could be anything,
there's a definite thing that doesn't belong,
like a dog in a tree
and you couldn't know the number of my women friends
whose men are no longer here,
how it always starts with,
could you look at this bump on my neck, this spot on my leg,
as if any of us had expertise in more than fear and rage,
rage because you just had to wrap your lips
around your smoke, didn't you, instead of around
some more compliant part of me,
always this conjunction of sex and death,
it's like the good twin hopelessly
sharing a brain with the evil twin,
the one who pops open a beer,
whispers, go ahead--light the match--mess it all up,
through nicotine-yellow teeth, the one
who makes me think that if you're ill,
I'll shoot you myself, kill you right now
for carelessly leaving me in this fucked-up place alone.
...
Case has no problem leading with her heart but be careful because she is coming for yours and she is a take-no-prisoners poet.
4 Rms w Vu takes the reader to the steppes of Kazakhstan, the Adirondacks, a car accident in Kansas and a new apartment in New York City. The last Inca ruler plays a part and so does Charlie Parker. Susana H. Case is an equal opportunity poet. But regardless of the setting she is always aiming for some new truth, a better understanding of the tumultuous relationships that make us human.
While Case is striding through all this scenery the important consideration is how engaged you become as a reader, how invested you become in the outcome. Case is all about relationships but has no trouble at all blowing them up to get a better look at what was inside. And we get to go along for the frenetic ride.
Girls You Could Love
girls you could fuck
and straddle-both-world girls
like me, you showed off
to your friends. Peaking early
girls. Peaking late. Prom queens.
Science girls. Nasty girls.
Straight-A girl with my intricate
knowledge of each protrusion, slit,
crevice. Don't forget the stockings,
the heels, you'd say, fetish boy
with your dual-career
parents, your empty house,
housekeeper who pretended
not to notice, the gilt phones I laughed
about to my friends. So good to be
inside you--or--you
inside me. I got so lost in it. My parents
who devoured relationship
books frowned, symbiosis
--a big word for us, fat
on the tongue--and yes,
I thought I'd crumple without
you, but also knew to direct you, slowly
run your hand up here, along the 15 denier
nylon you had so crazily fixed upon. Little
garter button indents red on my thighs
that read: the one with these legs
knows exactly how to want.
Anyone who thought the power was yours
really didn't understand.
...
Case is trying, quite diligently, to break down all impediments to the truth in these narratives. These poems hit like a wrecking ball. 4 Rms w Vu reminds us here at Today's book of poetry of Maryse Holder's Give Sorrow Words, if only for a moment. Case has some of the same intensity of emotional clarity and frankly, some of the same female anger that compelled Holder.
That's not a bad thing at all.
Today's book of poetry loved Give Sorrow Words and we are quite fond of Susana H. Case at the moment, we have nothing but admiration for any poet who is willing to put it all on the table.
Incantation
The best thing to die from is living.
Let me kill myself slowly with pleasure.
Let me dance round and round in circles first.
Let me blow a lot of fuses.
Let me age like a good slab of steak, tender
with the mold trimmed. Let me be
a car going 80 miles per hour.
Let me reach 80--the exquisite
torture of those many years is compelling.
Let them not be Chaplinesque. Let them say
she never knew what hit her. Let it be like
the one James Dean got, only much later.
Let me not surrender to humiliations.
Let me end when my mind, still sharp,
is somewhere else--dreaming of perfectly
grilled lamb, the rosemary perfume so strong,
it could be sealed in my pillow, of hot sex,
and let that be not so long gone
that it burns like a bad joke. In the valley
of the shadow of death, I'd still like
my red lipstick please. Let my breasts not reach
my waist. Let there be very little
scar tissue on me at the time and
let there be a weeping willow, under it
a significantly younger man,
my own little honey cake, who is weeping,
too--thought I don't wish that on him for long,
He'll have a life to live.
...
Is a good life possible? Today's book of poetry thinks so and so does Susana H. Case, she just makes it clear it won't come easy or without bruising. It might leave a scar. Just like these poems.


Susana H. Case
ABOUT THE AUTHOR
Susana H. Case is a Professor and Program Coordinator at the New York Institute of Technology. Her photos have appeared in Blue Hour Magazine, pacificREVIEW, and San Pedro River Review, among others. Author of several chapbooks, her Slapering Hol Press chapbook, The Scottish Café, was published in a dual-language version, Kawiarnia Szkocka, by Poland's Opole University Press. Her previous books of poetry are: Salem In Séance (WordTech Editions), Elvis Presley's Hips & Mick Jagger's Lips (Anaphora Literary Press), and Earth and Below(Anaphora Literary Press). Please visit her online at:
http://iris.nyit.edu/~shcase/
.
BLURBS
The poems in 4 Rms w Vu, like most of Susana H. Case's work, demand full participation—no watching here—that we live in their apartments, wear their clothes, down to the "denier nylon." At the end we're a little shaken, but a lot wiser. Susana is a daring poet, not so much for the sake of issuing challenges, but more to the cause of poetry itself; she defies one to bring the whole body and soul, and deny no part of this experience called living.
– Mervyn Taylor, author of The Waving Gallery
4 Rms w Vu is a poetic open house in which Susana H. Case guides us through the rooms of the heart. In poems addressed to husbands, lovers and parents, Case shows how the past, the curious details of daily life and wonderings about the future all weave together endlessly, how nothing is ever really lost—not a loved one, not a hurt—if you can remember. In her moving new collection, we see how this poet's art is an act of holding on in language that is sure-footed.
– Matthew Thorburn, author of This Time Tomorrow

Susana H. Case's 4 Rms w Vu superimposes an intricate map of a lover's mind on the floorplan of a New York City apartment in poems that never shrink from the "weep and stink
of everyday brutality." Moving from room to room and year to year, 4 Rms w Vu passes through meditations on life with dogs, the metaphysics of lipstick, and the peculiarly American primal scene of the isolating, moving, colliding car, in square footage inhabited by a woman with the brio to ask, as final prayer — "Let me blow a lot of fuses."
-B. K. Fischer, author of St. Rage's Vault

In these poems, Susana H. Case captures a vision of New York that can no longer be seen but in memory. Filled with characters frenzied by love, desire & hope, 4 Rm w Vu reminds us not only where we're from but also who we are.
-Gerry LaFemina, author of
Susana H. Case
reading her poem "Copiapo" from
the poetry anthology "Rabbit Ears"
video: Rabbit Ears TV
428