Today's book of poetry:
Losers Dream On.
Mark Halliday. Phoenix Poets. The University of Chicago Press. Chicago & London. 2018.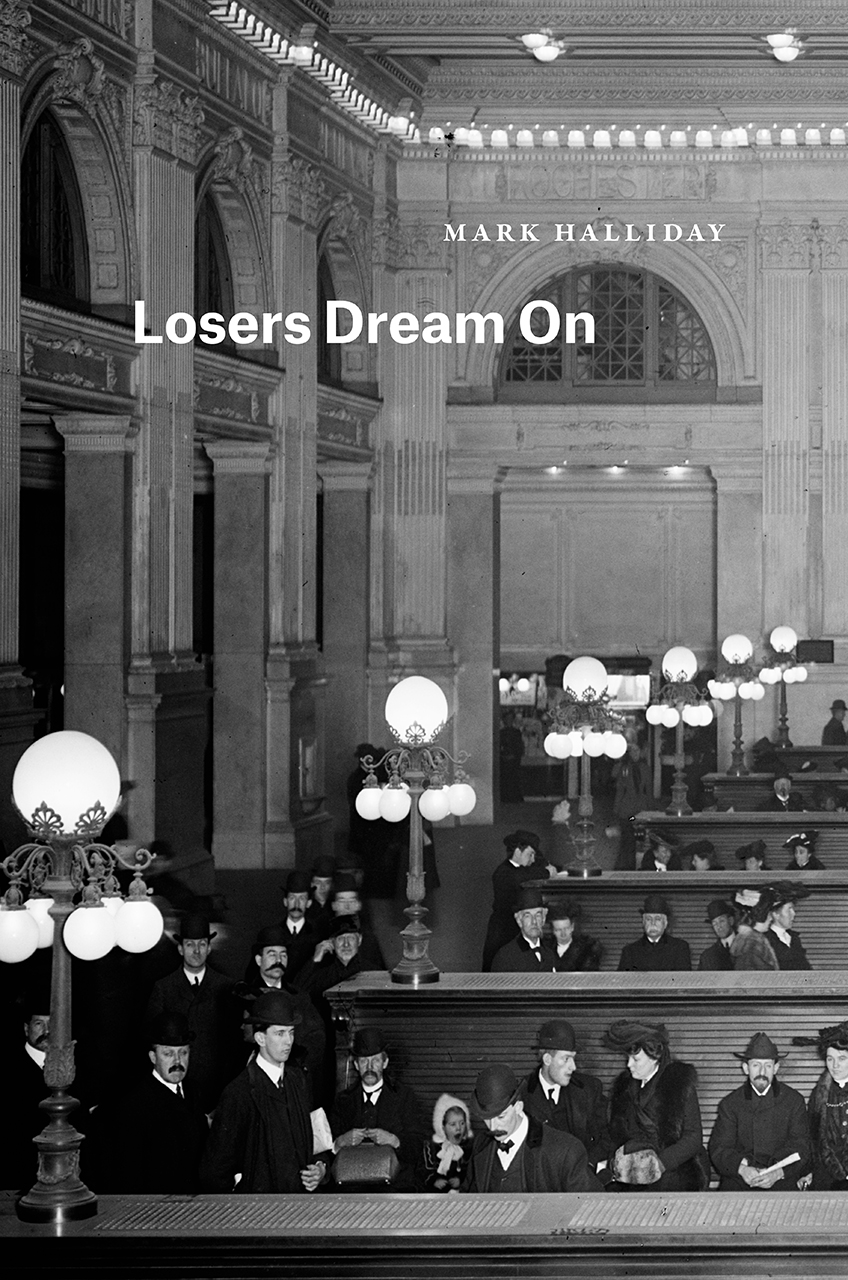 Mark Halliday's Losers Dream On is for the Hoi polloi even though they are unlikely to ever read it. More's the pity. Losers Dream On.
Losers Dream On was written for stand-up comedians at the end of hope and in need of a laugh. There's plenty strange happening as Losers Dream On but somehow it all plays familiar.
Halliday is thoroughly transparent, all of his magic tricks are done right in front of you, no slight of hand.
A Gender Theory
Women are right:
There must be meaning;
and the meaning will die.
Men are wrong:
They suppose there can be a deathless meaning;
or else that there can be joy without meaning.
Women know the double truth:
There must be meaning;
and the meaning will die.
💫💫💫
Here in Ottawa today we are trying to enjoy the sunshine and the blue, blue sky because tomorrow all hell is about to break loose. We are expecting 30-40cm. of snow tomorrow (15 inches or so), along with the snow there will be wind gusts up to 90km. (60mphish). Batten down the hatches.
On a snowy day when you can't leave the house Today's book of poetry says that a book of poetry might make for some fine quiet time. Mark Halliday is your huckleberry today. We recommend getting you hands on a copy of it and marking out some time.
Mark Halliday likes to look at time, how things work out over time, or don't. You can feel the undertoad in Losers Dream On even when Halliday is tickling the old funny bone.
First Wife
Each of us carries secret scars in spirit always ready
to be wakened into wounds, ready as if waiting
as if to be wakened into wounds is a debt forever unpaid:
a song suddenly brings the invoice again
and finds the screen door forever unlatched—
as when I hear "Save the Last Dance for Me"
and think immediately of Annie
and how I always said I would.
💫💫💫
Mark Halliday is pretty matter of fact in his optimism regardless of the obstacles he invents and/or endures. Losers Dream On is a totally solid poetry read. You all know the Today's book of poetry drill; when I'm reading a book for the blog, in this case Losers Dream On, it is only during the second reading where I'll start to mark up a notepad with page numbers of essential poems. These are the poems that Today's book of poetry wants/needs to share.
Halliday ran up some impressive Today's book of poetry numbers as we marked up our header with page after page of poems Today's book of poetry wanted to share. Halliday's batting average is All-Star material. Here's one more taste.
Index to Hamaday: A Questionable Life
Addicted to salted cashews,
64
Apologizes to two women in past,
55
Baffled by human acquiescence in gush of time,
49
Complacently accepts middle-class white male privilege,
56
Considerably less funny than thinks,
66
Doubts greatness of Philip Roth,
49
Dozes off over important books,
38, 39, 40, 41, 42, 43,
etc.
Eats more than friends deem possible,
19, 20, 22, 24, 26, 28, 31
ff
Feels "smaller than his life,"
57, 62
Forgets smart things said in restaurants,
28, 33, 39, 47, 60
Forgets that everyone else's heart is beating,
38, 48, 58
Honors Paul Violi via less funny imitation, see Index
Hopes candor can substitute for lapidary brocade,
38
Hopes mild flickering wit better than no wit,
67
Jilted by series of women insensitive to poetic virility,
23, 24, 26, 27
ff.
Keeps daily diary because is center of world,
41
Loses track of criteria for good poems,
45, 55, 67
Means more than can quite express, passim
Melon balls, metaphorical references to,
33, 44
More talented than enemies, by long shot,
48
More talented than friends, why not admit,
58
Mutters to self, unaware of being observed,
59-65
Ogles young women in airports,
45-66
Opposes own sexist tendencies,
24, 47, 56
Plans day around caffeine,
43, 45, 46, 48, 50, 52,
etc.
Rejects "reference," "impact," and "grow" as transitive verbs,
54
Salves conscience by sending small contributions to
Amnesty International, Planned Parenthood, Doctors Without Borders
Sings like George Thorogood while alone in car,
62
Still trying to impress women unimpressed forty years earlier,
61
Suddenly sees self as tiny fleck of ego amid billions of such,
70
Surprisingly clever after two gin and tonics,
56
Testosterone in odd relation to existential bafflement,
51, 55, 60
Time, mystery of, unable to stop exclaiming about,
39, 49, 59
Undeserving of luck but very glad to have it,
68
Wishes had been kinder on certain occasions,
71
💫💫💫
It's been a while since Today's book of poetry had a list poem and all of you regulars will know that Today's book of poetry is a sucker for the list poem. Halliday's "Index to Hamaday: A Questionable Life" is an ace.
Yep, Mark Halliday can burn.
Mark Halliday
ABOUT THE AUTHOR
Mark Halliday has taught in the creative writing program at Ohio University since 1996. His six previous books of poems include Jab and Thresherphobe, both published by the University of Chicago Press.
BLURBS
" 'And you try to be awake,' growls Mark Halliday. These poems are fully awake, practicing vivisection on their own delusions, complacencies, and sublimities, carving into the tissue of language. Song here sounds more like invoice than voice. Yet its wit reveals the timeless: sorrow for a dying father, a lost wife, and the core recognition of our 'dustitude.' A remarkable book."
- Rosanna Warren, author of Ghost in a Red Hat
"Reading Losers Dream On is like listening in on the constantly shifting, uncomfortable thoughts of a mind brilliantly attuned to the world of memory and to its own intricate (often hilarious) processes. These poems take place in landscapes that seem familiar at first—snow-covered parking lots, an empty Mexican restaurant, airport gates crowded with travelers—but, under Mark Halliday's gaze, they become dazzling and strange, filled with troublesome knowledge and the possibility of mortality and transcendence. Witty, exciting, and wide-awake, Halliday is one of the best poets at work in America today."
- Kevin Prufer, author of In a Beautiful Country
"Mark Halliday is one of our foremost technicians of the American vernacular. In Halliday's poems, James Joyce, Leave It To Beaver, and Sir Walter Raleigh all get their turn at the microphone. I admire Halliday's dedication to coherence, self-interrogation, and endless verbal playfulness. His voice is one of the most reliable, hilarious, effervescent, and moody pleasures in the contemporary canon. His rich new collection, Losers Dream On, holds its own with the high standard of his best work."
- Tony Hoagland, author of Application for Release from the Dream
Mark Halliday
Poetry@Tech: Mark Halliday
Video: Poetry@Tech
738
Poems cited here are assumed to be under copyright by the poet and/or publisher. They are shown here for publicity and review purposes. For any
other kind of re-use of these poems, please contact the listed publishers for permission.
We here at TBOP are technically deficient and rely on our bashful Milo to fix everything. We received notice from Google that we were using "cookies"
and that for our readers in Europe there had to be notification of the use of those "cookies. Please be aware that TBOP may employ the use of some "cookies" (whatever they are) and you should take that into consideration