Today's book of poetry:
Tatterdemalion.
Jennifer Londry. Chaudiere Books. Ottawa, Ontario. 2015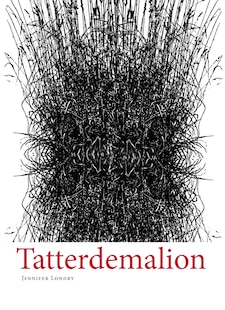 "Hindsight is a temporary virgin a has-been"
Second guessing the timetable
"I ain't no killer, but I could be."
Dueling musicians
Oh, hello. It seems you've stumbled into the Today's book of poetry offices just as I was making a list of the lines I wanted to steal from Jennifer Londry's very fine Tatterdemalion. It was going to be a long list.
Or how about that killer title, I'm in love with what is a new word for me, Tatterdemalion, to be "ragged or disreputable in appearance" says Merriam-Webster.
Londry's second book of poems comes to us in seven sections but her voice doesn't waver much. Too bold, brave and brash to be bitter but there are some sad miles on this road.
Three awful days without god
The asphalt aquarium of my innocence wobbled
and became unhinged.
Crouched in the garage
I read the label on a box of toddler-carbs--
folic acid, zinc oxide, vodka, niacin, riboflavin, carbon monoxide.
My mouth tastes like the morning after, plan B.
My hair is an auburn mess
twisting and turning inside my smallclothes.
They caught me running uphill on a one-way street
naked in a new pair of shoes
attempting to outrun the mundane.
...
Londry is an admirer of Ann Sexton and it shows like red lipstick on a collar. Today's book of poetry has long been an ardent admirer of Sexton.
We sent Milo to the Today's book of poetry bookshelves and he came back with Sexton's The Death Notebooks, Words For Dr. Y., Live or Die, The Book of Folly, All My Pretty Ones along with a Selected and a Collected Ann Sexton. We included the reading of a few Sexton poems along with Londry's for this morning's read. Didn't take long for us to remember why we call her Saint Ann of Sexton.
It doesn't take long once you've opened the cover of Tatterdemalion to see that Londry has the same razor edge sharp that she admires in Sexton. Some of these poems would be willing to cut you.
Ramble
I am the driver behind the wheel.
Keep going,
she says,
out-manoeuvre this array of facades--
clown face storefronts with down-up circular penny staircases
from Plenty's fallen pocket.
Snapshots of dead relatives scotch-taped to the hooch-man's window.
3, 9, 7
suddenly, the world rights itself.
Green lights twitch everywhere.
...
Today's book of poetry is particularly pleased to be writing about a title from a local Ottawa publisher. Chaudiere Books is the hard work of Rob McLennan and Christine McNair. Chaudiere Books are producing top flight beautiful books and Today's book of poetry is proud to brag local.
Jennfier Londry's Tatterdemalion has pace. These poems never dwaddle. Most of them are whippet thin and greyhound strong, it's all muscle and lung.
Who shan't escape
A pale witness picks up a cigarette and lights its final inhale.
Quitters live in a wasteland.
Sway and stoop.
Cemetery gate is open, nothing gets in.
Not even the twice dead.
The man who choked on a rat snake
the man who messed with Eden.
Like a shotgun awaits a prayer
it will take years for the city to mend.
...
Tatterdemalion bristles, this is fierce poetry, full of desperate situations and dire consequence. You might even think that some of these poems are salvos aimed at redemption but Today's book of poetry thinks Londry is working towards a higher purpose.
These poems want those red lips, that gin and that blue sky.
Jennifer Londry
ABOUT THE AUTHOR
Jennifer Londry is the author of two previous books of poetry:
Life and Death in Cheap Motels
, which was adapted for stage, and
After the Words
, which was nominated for a Saskatchewan Book Award. A featured reader at the 2009 Kingston Writers' Festival and at the 2011 Sweetwater 905 in Northern BC, she has also facilitated and organized a literary event for Alzheimer's Awareness. Jen has taught creative writing and recently was a judge for Words from the Street, a creative writing competition, which gives a voice to the downtrodden, in association with The Toronto Writers' Collective. She is also a contributor to the anthologies:
A Crystal through which Love Passes, Glosas for P.K. Page
(Buschek Books, 2013), Where the nights Are twice As long, Love Letters of Canadian Poets (Goose Lane Editions, 2015), and has work forthcoming in the Alzheimer's anthology, A Rewording Life, editor Diane Schoemperlen, creator Sheryl Gordon. Currently Jen is collaborating with the documentary filmmaker Sarah Turnbull at the Carleton School of Journalism and Communications to produce a mental health video.
BLURBS
"With capricious locution and charged language,
Tatterdemalion
fires the belly like spiked punch. Londry's poetry is fierce, full-tilt, and darkly unexpected--she thrives in the off-kilter corners of the dystopian human condition. Kick off your shoes. You're in for a wild night."
- Sandra Ridley
"In
Tatterdemalion
, Jennifer Londry weaves her dusky art at its best. A jagged, intense, down-the-rabbit-hole collection where leisure suits, dismembered limbs, the minaturized world of dollhouses and asphalt aquariums mingle into poems with a dark, folk-tale vibe. Immersive, beautiful tatters."
- Jeanette Lynes
"The poet write perceptive lines I savour like hard candy on the tongue."
- Shelley A. Leedahl
chaudierebooks.com
454
DISCLAIMERS
Poems cited here are assumed to be under copyright by the poet and/or publisher. They are shown here for publicity and review purposes. For any
other kind of re-use of these poems, please contact the listed publishers for permission.
We here at TBOP are technically deficient and rely on our bashful Milo to fix everything. We received notice from Google that we were using "cookies"
and that for our readers in Europe there had to be notification of the use of those "cookies. Please be aware that TBOP may employ the use of some "cookies" (whatever they are) and you should take that into consideration.