Today's book of poetry:
This Wound is a World.
Billy-Ray Belcourt. Frontenac House Poetry. Calgary, Alberta. 2017.
Griffin Poetry Prize 2017
CBC Best Canadian Poetry Book
2018 Robert Kroetsch City of Edmonton Book Prize Winner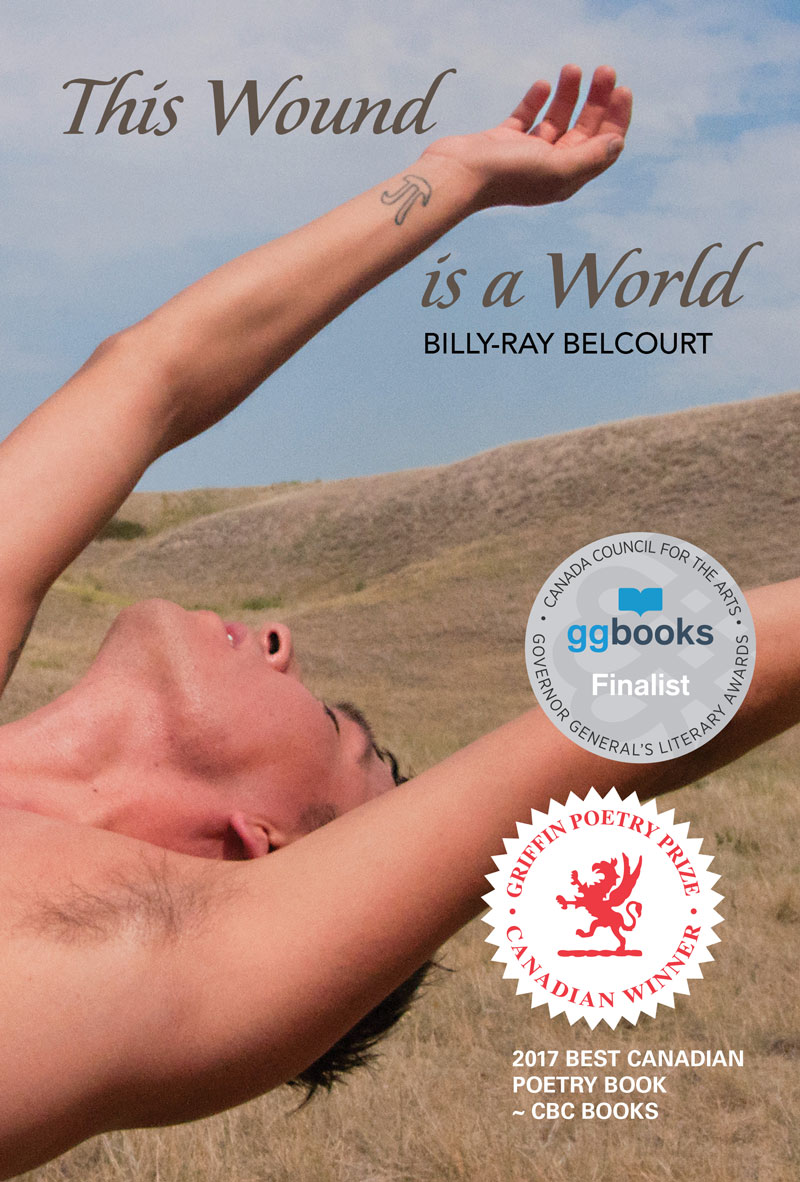 Billy-Ray Belcourt's stunning This Wound is a World deserved every prize it won and more. There might be other poets who hammered at these walls but there has yet to be one, as far as Today's book of poetry is concerned, who might actually bring them down. Billy-Ray Belcourt is such a poet.
It doesn't matter what you think you know about being gay or straight, Indigenous or not, these poems are going to change some of your perceptions. In Today's book of poetry world we know that only the very best poems can pull off this sort of magic, this sort of medicine.
Billy-Ray Belcourt pulls the rabbit out his hat like some sort of Trickster. The reader just has to sit back and watch the show.
The Cree Word For a Body Like Mine
Is Weesageechak
the cree word for a body like mine is weesageechak, the old ones know
of this kind of shape-shifting: sometimes i sweat and sweat until my
bones puddles on the carpet in my living room and i am like the water
that comes before new life.
i was born during a falling leaves moon; which is to say that i have
always been good at sacrifice. it is believed that women are most
powerful during their moontime and because of this do not take part
in ceremonies in order to let the body cleanse itself. there are
weesageechak days when gender is a magic trick i forgot how to
perform and my groin floods and floods trying to cleanse itself like
the women and i too become toxic for men who have built cages out
of broken boys.
maybe if i surrendered myself to grandmother moon she would know
what to do with these pickaxe wounds. there is so much i need to tell
her about how my rivers and lakes are crowded and narrowing. how i
managed to piece together a sweat lodge out of mud and fish and
bacteria. she gives me the cree name weesageechak and translates it to
"sadness is a carcass his tears leave behind."
and the crows and flies who don't care about gender will one day
make away with my jet-black finger nails and scraggly armpit hairs.
they will lay tobacco at my grave and tell their crow and fly kin that i
was once a broad-shouldered trickster who long ago fell from the
moon wearing make-up and skinny jeans.
💫💫💫
Belcourt will be in a unique poetic position, everyone who reads poetry is going to be anxious to see what he does next. Today's book of poetry is already convinced This Wound is a World is a Canadian classic, we will be looking at this marvel for a long time.
True, hard-nosed blood letting is a dangerous game to play. But it is clear Belcourt has big shoulders. In this case it means the poet has put it all up for grabs, Billy-Ray doesn't hesitate for one second, he is full in, all in. Billy-Ray Belcourt is a straight up gunslinger poet with dead-eye aim.
And dear readers, there is so much happening in This Wound is a World that I simply won't be able to tell you. For example, you all know how much Today's book of poetry loves "list" poems. We are a sucker for them. Billy-Ray Belcourt has several excellent, I repeat, excellent, list poems in This Wound is a World. Today's book of poetry loves those list poems - but, but, but, this is a book brimming over with the necessary.
If I Have A Body, Let It Be a Book of Sad Poems
i keep listening to a song by tom odell called grow old with me, i am
hung up on the enormity of that kind of project, of asking someone
to architect a livable world with you, what a blessing and a curse!
i hooked up with a man who insisted he was 42, but i suspect he was
older given the soft and reckless way he met my body with his. it was
9pm and we were making small talk and he told me a story about
how a relationship of his had started and ended at the same ski resort
in france. recently, he returned to that resort, and was caught
unawares by a wave of memories about his ex-boyfriend. today,he
lives alone in a houseboat, unwilling to be beside himself with desire.
how could he have expected anything but what christina sharpe calls
"the past that is not past" to haunt him? maybe that is why he wanted
to sleep with me last night. maybe that is why i invited him over in
the first place. i should have said: i don't have it in me to transform you.
if i have a body, let it be a book of sad poems. i mean it. indigeneity
troubles the idea of "having" a body, so if i am somehow,
miraculously, bodied then my skin is a collage of meditations on love
and shattered selves.
ok yes, i have been reading a bit of psychoanalysis lately. forgive me.
i am desperate. desperate to figure out how someone like me is still
here.
if i know anything, it is that "here" is a trick of the light, that it is a
way of schematizing time and space that is not the only one available
to some of us. maybe i am not here in the objectivist sense. maybe i
am here in the way that a memory is here. now, ain't that fucking sad
and beautiful?
💫💫💫
Reading Billy-Ray Belcourt's This Wound is a World the first time is like watching/hearing Stevie Ray Vaughan's all consuming attack on Jimi Hendrix's "Voodoo Child" for the first time. It is hard to take it all in, quite, because the artist is so far ahead of the curve that the reader has to lean into it. But make no mistake, Belcourt is:
"Standing next to a mountain"
and will
"chop it down with the edge of my hand."
It's exciting to read and instantly rewarding poetry. Milo, our head tech, said that he had to get copies of This Wound is a World into the hands of a few of his friends, pronto. Kathryn, our Jr. Editor, asked: "Do you think he knows what he's done?"
To which Today's book of poetry replied, "Damned right he knows!"
Wapekeka
in january 2017
two girls, 12, carried out a suicide pact
on the wapekeka first nation.
what is suicide
but the act of opening up
to the sky?
but wanting to live
more than once?
yesterday
a cloud fell onto me
and i never felt more at home.
sometimes i cry
in indian
and it sounds like
i am speaking
in english.
don't open your eyes.
pretend that
everything is a bird
and no one is hungry
for what they can't have.
...
Today's book of poetry is certain that poetry this necessary will find an audience. This Wound is a World is going to be remembered as a landmark book.
Today's book of poetry is thrilled to back on the job and excited to be starting the year with Billy-Ray Belcourt's amazing and brave This Wound is a World.
Billy-Ray Belcourt
Image from CBC Books
ABOUT THE AUTHOR
Billy-Ray Belcourt is from the Driftpile Cree Nation. He is a PhD student in the Dept. of English & Film Studies at the University of Alberta. He is also a 2016 Rhodes Scholar and holds an M.St. in Women's Studies from the University of Oxford. Billy-Ray was named one of six Indigenous writers to watch by CBC Books in 2016, one of ten Indigenous writers to read right now by VICE in 2017, and he was the recipient of the 2017 P.K. Page Founder's Award for Poetry. This Wound is a World is his first book.
Billy-Ray Belcourt
recites one of his poems
Video: Edmonton Journal
729
Poems cited here are assumed to be under copyright by the poet and/or publisher. They are shown here for publicity and review purposes. For any
other kind of re-use of these poems, please contact the listed publishers for permission.
We here at TBOP are technically deficient and rely on our bashful Milo to fix everything. We received notice from Google that we were using "cookies"
and that for our readers in Europe there had to be notification of the use of those "cookies. Please be aware that TBOP may employ the use of some "cookies" (whatever they are) and you should take that into consideration.