Today's book of poetry:
Every Ravening Thing.
Marsha de la O. Pitt Poetry Series. University of Pittsburgh Press. Pittsburgh, Pennsylvania. 2019.
Marsha de la O waltzed in to our office like she owned the place. Once we read Every Ravening Thing we weren't sure. It was like a new kind of wind had swept through Today's book of poetry's brain, maybe a new type of sirocco or chimera. These poems, happy or sad, play out like marvelous candies you can roll around your poetry mouth. Not trivial penny candy, no Sir, these are not the lint-bound mints of Sunday disappointment, no, these are pure gold. Toffee so pure and carmel smooth, these poems are almost smoky.
Every Ravening Thing is smart, smart, smart. Today's book of poetry would suggest that instead of embracing any one narrative style, or structural framework, school, etc, de la O never boxes herself into a process induced corner. de la O burns with extra sauce and comes out looking like the quintessential everywoman.
de la O isn't afraid of the dark and she's not offering up solutions, but she sure is taking a good look at what is important. She certainly has things to say, worth listening to things.
In Those Months Gold Leaf Drifted onto His Skin
Late nights, late nights, rain fingered his guitar,
He played bars every weekend, trained dogs
on the side, dreamed an orchard out back,
white peaches, dark plums.
Once he made a barbecue
from a fifty-gallon drum, simmered mussels
in wine.
Late nights, late nights,
talking through winter, his laugh turned to velvet
when the temperature dropped.
Scorpion on his bicep, at his heels an Alsatian.
All through summer his garden spoke in tongues,
stone fruit, dark plums.
The day they told him no,
not a chance for a transplant, he took a whisk
broom to the cemetery, swept his father's grave.
Dark nights, dark nights, rain pierced his eyes.
When the Feather River overtopped its banks
he finally got down
to the slow work of drowning.
❢❢❢
2020 is upon us and this past year's hangover feels worse, a little more difficult than others. Even when President Reagan was standing under the red, white and blue Today's book of poetry didn't feel this particular sense of dread. Today's book of poetry believes that a regular diet of helpful poetry is called for. Marsha de la O falls right into this prescription, she is step ahead of the curve, leading, not following. Take two helpings of Every Ravening Thing and call Today's book of poetry in the morning.
Today's book of poetry has to admit that de la O got under our skin, turned us around once or twice, Every Ravening Thing has weight. Marsha de la O's landscapes resemble our own, it's when she explains the old terrain and makes it burn new that our eyes widen.
Star Pine
Time can slow to a halt in a hallway
with a view of a star-pine
by the pharmacy, and the roof below
with its carpet of asphalt and small rocks.
I've got a window seat and minor piety,
I've got a chant, thrumming:
You, my faith, my ark, my bricks and mortar.
We've already said good-bye.
My rule is: keep your mouth shut.
We don't know how it gets in a body.
If I yawned, a tumor could flit inside
about the size of a cream puff or a golf ball
without symmetry - spikes and folds and webs
like a baby dragon.
And when it hatched, the mother
bent her fearsome neck
and moved that nestling
near where your blood bustles.
I've got a thick skull of hope
unwinding a vision, a picture
for afterwards:
you're pink faced and twinkling, rosy-all-over,
maybe shambling a little, but otherwise
the same.
You're looking good.
I'm the life form with a sour smell.
It's fear, but I tell myself that's covered here
by the dead smell of caution, they're non-committal.
They pad by in booties and hairnets, careful
of the I.V., the pole, the whole awkward procession,
a movable bed, a bag of clear liquid
dripping like mercy.
And the patients
with sheets drawn up to their chins
have suffered themselves to be tethered and pressed
like good and sweet animals.
The elevator opens, they're pushed inside,
the door closes behind them.
I watch them leaving, and wait for you.
The star pine leans toward the glass.
I'm mouthing thank you
and whispering please.
That star pine is your lost sister.
That star pine is your brother's soul,
sane and calm and cleansed.
The dragon
bends her fearsome neck;
the tree
is breathing next to the window.
Let it breathe for you.
❢❢❢
"I've got a thick skull of hope." Today's book of poetry is going to have to contact Marsha de la O and ask if we can use that as a title for a book.
So de la O goes up one side of illness, fear and grief and comes down the other somehow hammering splendid. And then she pulls out the Upanishads. Today's book of poetry has a particular fondness of the Upanishads from our last time in a classroom. We remembered "the essence of all beings is the earth," and more. de la O has an understanding of the complications every life faces. Every Ravening Thing takes a look at it all in these robust and lush poems where we learn, like de la O, to: "let touch teach me."
To the Grandmothers
Chernobyl, thirty years later
Old women with side gardens and jars
of moonshine alone in empty villages,
tell me, solitary lynx, multitudinous wolf
pack, how do you do it - all my life I've lived
in cities, bought food from grocery stores -
what's it like to return to the abandoned zone
on foot, reclaim your cottage beside the dank
canal, to howl, to hunt in packs, to foal calves,
fell trees, light down in the bodies of swans
and swim in cooling ponds, why would you
fly three thousand miles to build a nest
inside the cracked concrete sarcophagus
over the remains of reactor four? She grins,
hands over a jelly jar of vodka, the good stuff,
Motherland is motherland, she says.
❢❢❢
Today's book of poetry is proud to start off 2020 with Marsha de la O's Every Ravening Thing. We are big believers in the "start as you mean to go on" vibe. We are all about the poetry burn and de la O is aces.
No promises for the forthcoming year but we are looking forward to reading all the poetry that comes through the door. Our deepest gratitude to University of Pittsburgh Press and the almost 200 other poetry presses who send work Today's book of poetry's way.
Luckily we already know the line up for the next little while. It makes Today's book of poetry blush it is so rich.
Stay tuned.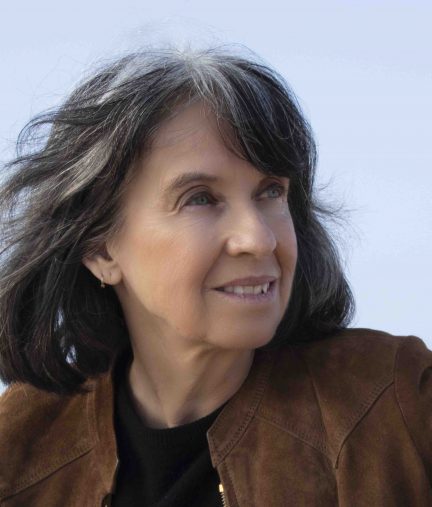 Marsha de la O
Marsha de la O is the author of Antidote for Night, winner of the 2015 Isabella Gardner Award, and Black Hope, winner of the New Issues Press Poetry Prize and winner of an Editor's Choice, Small Press Book Award. Other awards include the Morton Marcus Poetry Award and the da Poetry Award. She has published extensively, including recent poems in The New Yorker and the Kenyon Review, with work forthcoming in Prairie Schooner. De la O lives in Ventura, California, with her husband, poet and editor Phil Taggart. Together, they produce poetry readings and events in Ventura County and edit the literary journal Spillway.
Every Ravening Thing presents a matchless intensity and intellectual grit, a fearless investigation into the world amplified by a vision that is both cosmic and detailed in our common suffering. This is a brave book of poetry.
- Christopher Buckley
What is ferocious – ravenous – here is the poet's driven need to tell things as they truly are, which means it's not always a pretty picture that she so carefully assembles for the reader. And I love the raucous regard she has for diction: reckless and powerfully inventive and fresh the way air can be fresh. All of this is held together by a commitment to the music that drives these poems in a way that soothes the ear. Every Ravening Thing could serve as a warning to all of us about our failures as men and women, and as a celebration of the good we're capable of doing and in that way is a necessary part of our reading.
- Bruce Weigl
This is poetry meant to open hearts and change attitudes in fundamental and necessary ways, poetry of witness and utility. It is also often deeply moving.
-South Florida Poetry Review

MARSHA DE LA O at Writers Resist LA 2019 Reading
Video: Poetry L.A.
upress.pitt.edu
DISCLAIMER
Poems cited here are assumed to be under copyright by the poet and/or publisher. They are shown here for publicity and review purposes. For any other kind of re-use of these poems, please contact the listed publishers for permission.
We here at TBOP are technically deficient and rely on our bashful Milo to fix everything. We received notice from Google that we were using "cookies"
and that for our readers in Europe there had to be notification of the use of those "cookies. Please be aware that TBOP may employ the use of some "cookies" (whatever they are) and you should take that into consideration.