Today's book of poetry:
Primary Source.
Jason Schneiderman. Red Hen Press. Pasadena, California. 2016.
Winner of the Benjamin Salter Award, 2014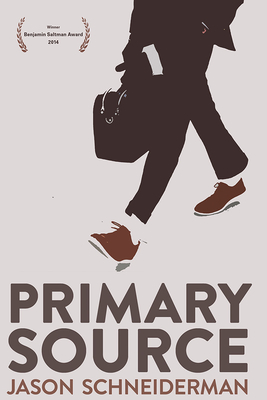 To Please and Instruct
The purpose of art is to please and instruct
-- Horace, Arts Poetica
The moral of this poem is fuck you.
The moral of this poem is I'm drunk.
The moral of this poem is I'm too drunk to be held responsible for what I'm
saying to you right now.
The moral of this poem is you're fat.
The moral of this poem is if you come after me, I will have your Hotmail
account turned off, true story.
The moral of this poem is herpes.
The moral of this poem is the Pope's a liar.
The moral of this poem is I'm sorry I threw up through my nose on you.
The moral of this poem is getting through customs without a passport.
The moral of this poem is gestalt therapy.
The moral of this poem is terrorists.
The moral of this poem is you like Tarantino movies because you're stupid
and I like Tarantino movies because I'm smart.
The moral of this poem is cats that look like Hitler.
The moral of this poem is reality television.
The moral of this poem is don't have sex with your siblings, parents, or
anyone under eighteen, sixteen if you're in Greece, fourteen in Denmark.
The moral of this poem is meth mouth.
The moral of this poem is gun-show loophole.
The moral of this poem is Gawker.
The moral of this poem is two state solution.
The moral of this poem is too much rage.
The moral of this poem is rehab sucks.
The moral of this poem is your wife being fingered in the bathroom at a
party by this guy you invited because you thought he was cool and look
where that got you.
The moral of this poem is rules change.
The moral of this poem is George Washington filling his dentures with
teeth pulled from his slaves.
The moral of this poem is kill me.
The moral of this poem is hip surgery.
The moral of this poem is drone strike wedding massacre.
The moral of this poem is thong.
The moral of this poem is shut up.
The moral of this poem is make me.
...
Let's get this party started with a kick-ass list poem. That's the ticket. Today's book of poetry loves a good list poem and "To Please and Instruct" is a stone-cold killer and the best list poem we've come across in a good while.
Jason Schneiderman's Primary Source is a playground for avid readers of poetry. There is no commitment by the poet to any particular school or style of poetry, Schneiderman is all over the stylistic map and that is a total win for the reader. This poet tears it up with ribald wit, no obvious sympathies, and a willingness to go in for the kill. If Schneiderman were an athlete Today's book of poetry is convinced he'd be a wicked smart decathlete.
My Rich Friend
My rich friend wasn't always rich
but now he's very good at it,
by which I mean he's generous,
has excellent taste, never makes
anyone uncomfortable, has good
boundaries, and please don't tell him
but if I were ever to kill myself,
he has this wonderful window
in this perfect little dining nook
that's fifteen stories up and opens
all the way. The last thing
I would see is a soapstone zodiac
carved into a recess in the ceiling,
and then the city going by
ever so fast. I'm not usually tempted
by an open window. I don't know
how he survives it every day.
...
Primary Source does all those things Today's book of poetry looks for in a book of poems. These poems are clever but not coy with wicked dry humour and instructive without ever being overbearing.
Schneiderman dives into Cole Porter water with a pseudo-song of three verses that he uses to start off each of the three sections of Primary Sources. Schneiderman is tipping his hat and it is a big hat because he has something to say and is surrounding himself with a litany of poets and a peppering of cultural pop shots. Here's a partial list: James Merrill, Helen Vendler, Stephen Spender, Yoko Ono, William the Shake, Thom Gunn, David Lee Roth (of all spandex wearing people), Marie Howe, John of Ashbery, Farah Fawcett, Frank O'Hara, the Beats, Dale Young, Ashton Kutcher, Robert Pinsky, Mark Doty, Robert Lowell, Ted Hughes, Sylvia Plath, William Matthews and so on. It's a hearty list of playmates and influences and guilty pleasures.
Jason Schneiderman knows how to play hard and in these poems he talks about gender and the performative nature of gender and how cruel and ignorant love and lust can be. Schneiderman also muses on racism, John Cage and the fear of bears. Today's book of poetry found it all compelling.
The Turing Test
It might be urged that when playing 'the imitation game' the best strategy for
the machine may possibly be something other than the behaviour of a man.
-- Alan Turing
Who do you think he is, this boy in the Midwest
jerking off to the end of Alan Turing's biography,
getting aroused by the parts where the shame
and degradation are exactly what he's always wanted,
at a pornographic remove, and his history teacher
knows nothing about the end of Alan Turing's life,
which this boy will wisely leave out of his report.
Chemical castration? Hot. Nascent breasts? Hot.
Driven to suicide? Hot. Hot. Hot. And yes,
in the morning, on the school bus, or in the passenger
seat of his friend-girl's car, he'll think, That was
seriously fucked up, jerking off to that, and he won't
even tent his pants by the light of day, knowing
he erased his browser history of all the chastity
blogs, and all the chat rooms where he gets to be
six-foot-two and the captain of the football team
who always just turned eighteen yesterday and
is enslaved to his coach, but that fantasy is getting
tired, and his mind wonders to tomorrow's trig
exam, and soon he'll get back to Alan Turing,
cock-slave to his government. Hot. Defeater of Nazis.
Hot. And by day, this you're-not-fooling-anyone
president of the Gay/Straight alliance may be furious
at how this hero was treated, will start a petition
to get the science lab named for Alan Turing,
but at night he wonders, in one recurring fantasy,
if he could ever pass the Turing test, but in the other
direction. If maybe, just maybe, no one could ever tell
he was human.
...
Sunday morning usually makes for a quietish office read but the Today's book of poetry staff were full of piss and vinegar today. Schneiderman isn't just brilliant he can be incendiary. Milo, our head tech, was particularly taken by the strong and fearless head on Schneiderman's shoulders. Milo insisted we include a fourth poem today and he made a good case for it. Today's book of poetry was easily swayed.
In the Next Room
She said, "Remember when you liked me
more than crack?" and he said, "Yeah, that
was when I hadn't met crack yet." and when
she huffed and tried to leave the booth
he grabbed her arm, and pulled her back
and said, "We have to talk about the dog,
remember?" and she said, "I thought
we were talking about the dog?" and he said,
"We have to finish talking about the dog,"
and she said, "So fucking finish talking
about the dog." and he said, "So stop being
a giant cunt and I will," at which point,
in a single sweeping movement of her arm
she knocked every single thing off the table,
and the cups and plates broke against
the floor, and the coffee flew up and stained
my pants, and the silverware clattered, and
we weren't overhearing anymore, we were
paying rapt attention, and he said, "You're paying
for that, you bitch," and she said,
"Pick up the tab, asshole," and not one
single person tried to stop her as she left.
...
Jason Schneiderman
ABOUT THE AUTHOR
Jason Schneiderman was born in San Antonio Texas, but was raised around the United States and Western Europe owing to his father s military service. He holds BAs in English and Russian from the University of Maryland, an MFA from NYU, and a PhD from the Graduate Center of CUNY. He is the author of two previous collections of poems:
Sublimation Point
(Four Way Books, 2004) and
Striking Surface
(Ashland Poetry Press, 2010), winner of the Richard Snyder Prize. He is also the editor of the anthology Queer: A Reader for Writers (Oxford University Press, 2015). His poetry and essays have appeared in numerous journals and anthologies, including American Poetry Review, The Best American Poetry, The Bloomsbury Anthology of Contemporary Jewish Poetry, Verse Daily, The Poetry Review, and The Penguin Book of the Sonnet. Schneiderman has received Fellowships from the Fine Arts Work Center in Provincetown, Yaddo, and the Bread Loaf Writers Conference, and is the recipient of the Emily Dickinson Award from the Poetry Society of America. He is an Assistant Professor of English at the Borough of Manhattan Community College and lives in Brooklyn with his husband, Michael Broder."
BLURBS
Jason Schneiderman's
Primary Source
is a sparkling demonstration of this principle: a poet evolves by making as many aspects of the self as possible available on the page. By turns sardonic and sincere, nakedly vulnerable or armored in irony, the wild magpie intelligence shaping these poems plucks threads from Shakespeare and Stein, borrows forms from Cole Porter and Wittgenstein, and bows to a variety of influences so vast (Sylvia Plath and David Lee Roth?) as to constitute a way of situating the self, influencing the dizzily happy reader to a queer subject, a livewire thinker at work, a breathing human presence."
- Mark Doty
Schneiderman's poetry goes beyond camp, slapstick, and coterie aesthetics, although that's his terrain, too; his quick-dazzle intellect is its own happening, a commedia dell'arte cutting through the noise, offering both literary and social critique. The pleasures are here, the mystique of Schneiderman is Schneiderman."
-- Major Jackson
'Elegy VII (Last Moment)' by Jason Schneiderman
Video: PBS Newshour
redhen.org
529
DISCLAIMERS
Poems cited here are assumed to be under copyright by the poet and/or publisher. They are shown here for publicity and review purposes. For any
other kind of re-use of these poems, please contact the listed publishers for permission.
We here at TBOP are technically deficient and rely on our bashful Milo to fix everything. We received notice from Google that we were using "cookies"
and that for our readers in Europe there had to be notification of the use of those "cookies. Please be aware that TBOP may employ the use of some "cookies" (whatever they are) and you should take that into consideration.