Today's book of poetry:
Acacia Road.
Aaron Brown. Silverfish Review Press. Eugene, Oregon. 2018.
Winner of the 2016 Gerald Cable Book Award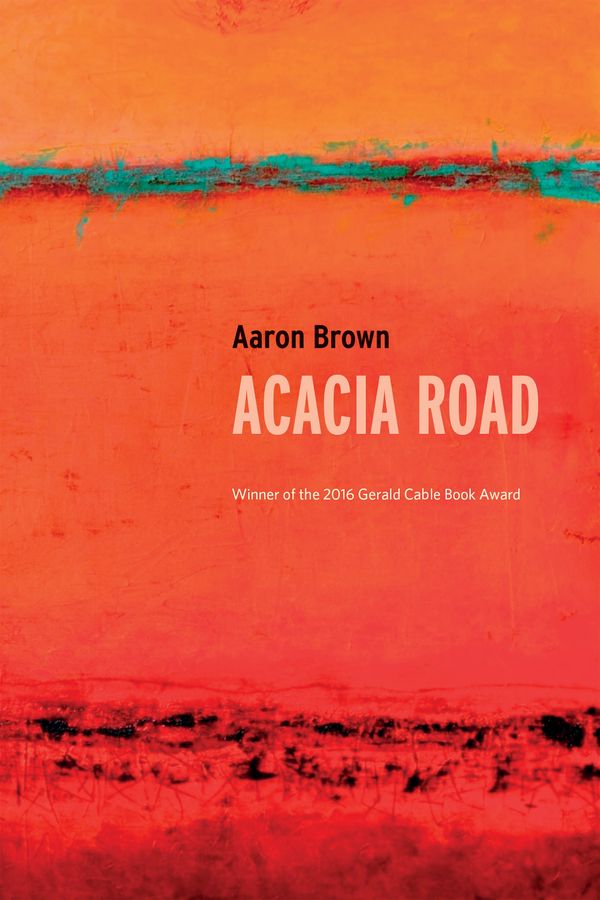 Last night Today's book of poetry found ourselves at Aaron Brown's Acacia Road. We'd been there before when we first read Brown's poems. Most of Acacia Road either occurs in Chad, Africa, or is a memory of an experience Aaron Brown had while living in Chad. Born in Texas but his family moved to Chad when he was young, he is back in America now, and the emotional pull of the great continent is in every word Brown puts on the page. Brown's poems are in English but the reader soon sees that Brown is speaking a language of his own.
Acacia Road is cinematic and often joyous in the rich and complicated splendor of Brown's African experience. Literally and unabashedly Brown shares mango inspired sugar-high romps of memoir, and then the shells begin to drop. Machine gun fire.
Maternal
when I see you again
what will we say
to each other
my Chadian grandmother
you brought me
spiced and steaming coffee
you made me sit and drink
your eyes proud of who
I was becoming
a rajil you said so emphatically
the same eyes with which
you gazed at your blood-son
your youngest given to you
in husband's memory
conceived before they took your love
and shot him at the outskirts
your Madri would grow
to care for you in old age
to provide for his brothers
who couldn't find a job
for drink and lounging around
but he was taken too
dead from his motorcycle
and what must you say
to the shriveled tree
in your backyard
the one under which you sit
pouring coffee for guests
serving them sweet biscuits and dates
💥💥💥
Aaron Brown's childhood ended in synchronization with a neighbouring war, violent rebel activity and a hasty but necessary farewell to Chad. As an adult back in America he bids his memory into action trying to remember the names of his African friends and family. It seems they both fill Brown with joy and the harrowing realization that time chips away at all, the memory fades.
Brown is looking for some sort of redemption and these poems are his evidence and his prayer. To get memory right, make it true, you sometimes have to take the long way around.
Acacia Road
From thirteen thousand feet, the twisting acacias -- thirsty thorn-trees reaching
a web of fingers up to the sky, into the earth -- look like shrubs
shriveled under the sun seeming so distant, yet so present with its heat.
Streams of cattle ridge like ocean waves across the plains, the sleek
and sheen of their backs, ants' exoskeletons, labor for miles
to the burst of brush beyond the endless nagga. Rising from earth
mountains pepper the plain: mounds of rocks, marbles of God, pile high
above dom trees whose black seeds clump like fistfuls of obsidian --
when they fall they make the sound of a bullet rushing through a dust devil,
rushing to the point of impact in the sand silencing
the sound of lead. From thirteen thousand feet, I wonder if a shepherd
roaming the road remembers the rebel trucks that breathed death
into the dust, clouding the air with sandgrain, cloaking black barrels of kalashes
aimed across a land I now study, five years later through the plexiglass,
a land sucked dry, flying to the town at the world's edge, the place no soldier
would go. The circles of huts and thatch swell as the empty oxbows
wind a road to follow -- a road that breaks at carcasses of colonial homes
and people streaming in polyester gold and deep azure sky --
and somewhere, down there, a three-part gate along chari kabir stands
as the entry to mine, but to find it, turn at the broken cement mixer,
the one left lying abandoned by a truck traversing the desert so far it makes
light its load, casting off the disrepaired, losing its cargo piece by piece.
💥💥💥
Today's book of poetry was in, hook, line and sinker, the first time we read Acacia Road. With each subsequent reading more was revealed. Aaron Brown is willing to take his time, he is a natural story teller. We had Dexter Gordon on the box this morning, Tanya. Simply one of the best songs in the jazz canon. The mood seemed to fit our office reading of Acacia Road. Sophisticated, emotional and always just a little cool.
Aaron Brown can burn and Today's book of poetry is happy to share.
Tuareg Prayer
Twenty years you waited for me to believe
in the same God as you -- you, travelling
by horsecart with the rest of us, pitching
your tent next to the rainy-season-filled
pond, the gum trees sapping tears for our poverty.
We followed rain clouds. You followed us.
Showing us love. We showed you ours.
Now, as the meat on my bones passes
through death's teeth, will you remember me?
Will you, during the rainwind afternoons,
think of the date-tree shade and the tea
we shared? Will you think of our children
growing up together with the goats,
rolling bike tires with sticks
and singing to the full moon?
You have waited for me this long.
Now I ask you to hold out a little while
longer -- until the millet stalks have grown
past your shoulder, and the camels come
back from the north.
Then, you too will close your eyes
one last time when the sun is at its hottest
and your belly full of camel meat.
On the other side, you will walk
the twisting path between the knife-tipped bush.
You will find me at the entrance
to the camp, waiting for you,
waiting to go in together.
💥💥💥
When we got to the last verse of "Tuareg Prayer" during our morning read, there wasn't a dry eye in the place. We even heard a sniffle from the office where it is rumoured Max lives. Full points all around for Aaron Brown's sublime Acacia Road.
Brown proves that poetry is the best way to travel.
Aaron Brown
ABOUT THE POET
Born in Texas and raised in Chad, Aaron Brown is the author of the poetry collection,
Acacia Road
, winner of the 2016 Gerald Cable Book Award (Silverfish Review Press). He has been published in World Literature Today, Tupelo Quarterly, Waxwing, Cimarron Review, and Transition, among others, and he is a contributing editor for Windhover and blogs regularly for Ruminate. Brown now lives in Texas, where he is a professor of English and directs the writing center at LeTourneau University. He holds an MFA from the University of Maryland.
BLURBS
"
Acacia Road
is a vivid, brilliant, and haunting memory palace, evoking Aaron Brown's childhood spent in Chad on the cusp of its civil war, and while at times the 'second space' of recollection, seems idyllic, the sound of shelling and gunfire, and news of human violence is never far away."
- Michael Collier

"These poems proceed by an earnest story-telling and remembering. And while the surfaces of the poems are characterized by skillful narrative and descriptive impulses, underpinning most of them runs a deeper agon and self-critique, uncovering both a fear of and a relentless thirst for the ecstatic. These poems embody, at their best, that thirst."
- Li-Young Lee

"Aaron Brown's poetry is beautifully written and has a strong sense of description, thus transforming the ordinary into exquisite, blissful bits of writing. From the precious time spent with friends come these poems in which not a particular geographic region, but the land of youth, generosity and love is the true mother country so longed for."
-African Book Review

"Aaron Brown's Acacia Road moves between the past and the present, and the known and the unknown, wandering the rooms of memory and the knowledge of the body. But Acacia Road also evokes real places, full of real lives and hard lessons, deeply felt and evocatively rendered. The narratives in this book resist easy certainty, and the images suggest how distance is both a measure of miles, and an important emotional register, as a cloud-like voice rises up to say, 'pay attention / or you will / miss your destination.' And these poems do pay close attention. To language—'I knew how to sing a little.' To time—'then and only then could we share a kind of silence, the pause between one cup of tea and the next.' And, ultimately, to the questions that remain for all of us as we travel together: 'Now, as the meat on my bones passes through death's teeth, will you remember me?' One way I measure the impact of a book is in my desire to start over again when I am finished, and it was a deep pleasure to turn and return to the mysterious and familiar roads of these richly imagined poems."
-Jenny Browne

"Acacia Road is a collection I want to return to and hold my ear against. I swear, you can hear the silence violence brings about, splintering."
802
DISCLAIMER
Poems cited here are assumed to be under copyright by the poet and/or publisher. They are shown here for publicity and review purposes. For any other kind of re-use of these poems, please contact the listed publishers for permission.
We here at TBOP are technically deficient and rely on our bashful Milo to fix everything. We received notice from Google that we were using "cookies"
and that for our readers in Europe there had to be notification of the use of those "cookies. Please be aware that TBOP may employ the use of some "cookies" (whatever they are) and you should take that into consideration.